Jak vytvořit "fragmovie" z cs:s
Co budeme potřebovat:
1) cs:s
2) fraps
3) nějaký movie editor, například WindowsMovieMaker, Sony Vegas, pro linuxaky například Kino
4)
Avidemux
5) trpělivost
6) hodně času
7) pevné nervy
Postup:
1) natočit video pomocí příkazů do konzole:
"record nazevvidea" (začne nahrávat video do nazevvidea.dem ve složce cstrike)
"stop"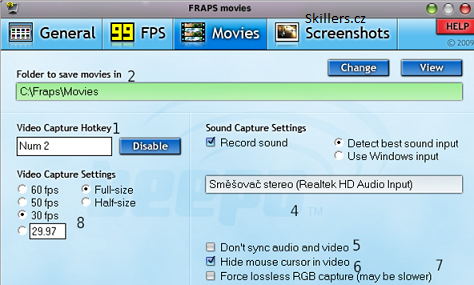 Před následujícím krokem je důležité nastavit Fraps a to takto viz obrázek:
1 – Video Capture Hotkey > klávesa na nahrávání videa
2 – Folder to save movies in > umístění k ukládání filmů
4 – Sound Capture settings > nastavení nahrávání zvuku
5 - Record sound > nahrávat zvuk
6 - Don't sync audio and video > nesynchronizovat audio a video
6,5 - Hide mouse cursor in video > schovat kurzor ve videu [nikoliv crosshair]
7 – Force lossless RGB capture (may be slower) kdyby někdo zjistil, co to je tak napište mě nebo nejsempanně.
8 – Video Capture Settings > nastavení nahrávání videa
fps: vyzkoušejte všechny možnosti tak, aby s vám při nahrávání cs nesekalo.
Full-size > plná velikost videa
Half-size > poloviční velikost videa
2) video zapnout pomocí příkazu
"playdemo nazevvidea"
a nahrát frapsem [u mě dvojka na num. Klavesnici]
3) video bude v C:/Fraps/Movies [u mě]
4) Teď přijde na řadu stříhání videa.
5) Otevřeme stříhací program a sestříháme.
6) Videa vytvořená frapsem jsou většinou hodně veliká.
7) Pokud máte místo na hdd, uložte si celé video [klidně i 5 GB, může trvat i půl hodiny]
8) Otevřete Avidemux
9) Vyberte video, které chcete upravit
10) Pokud se video otočilo vzhůro nohama, udělejte následující: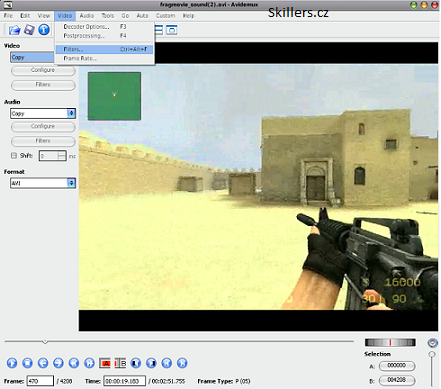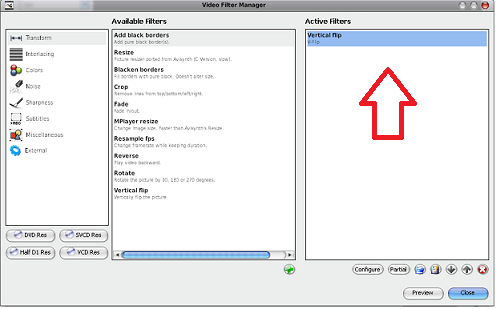 11) V menu "Audio" vyberte copy
12) V menu "Video" vyberte MPEG4 ASF (Xvid)
13) Z menu vyberte File > Save > Save video
14) Vyberte umístění > Save
15) Chvíli počkejte, video by se mělo v několika minutách uložit a mít menší velikost [z 5 GB na 75 MB]
16) Tím je video hotovo.
Pro Skillers.cz napsal:
nO_sOunD